COVID-19 Update
The School of Audiology and Speech Sciences is committed to maintaining high standards of academic and clinical education that will enable students to develop the competencies necessary for successfully completing their programs and being prepared to enter clinical practice. Any COVID-related modifications to their program will uphold these standards of excellence.
Over the last 19 months, our students have displayed the highest of standards of conduct and responsibility with respect to compliance with Public Health restrictions. We hope the following information will be helpful during your placement.
1. As of March 2021, Clinical Educators and Students will be asked to sign off that students have reviewed your site's Safety Plan. There is an online survey sent by Andrew Hale at the SASS to CEs and students that should be completed, and will fulfil part of the approved Safety Plan Checklist for Placements for the Faculty of Medicine. Thank you for completing this survey at your earliest convenience.
2. As per the newly published HOSPITAL AND COMMUNITY (HEALTH CARE AND OTHER SERVICES) COVID-19 VACCINATION STATUS INFORMATION AND PREVENTIVE MEASURES – OCTOBER 14, 2021 from the BC Public Health Officer all students training at any hospital or community health care service are included in the "staff member" category, and as such are required to comply with conditions listed in detail on pages 9-10 of the order at http://www.bccdc.ca/health-professionals/clinical-resources/covid-19-care/new-today.
3. Your facility ('Operator') will be verifying vaccination status directly with the student. There is a plan for a system for students to also upload their status directly which is at this time not in place. For non-health sector sites, students must also comply with your agency's conditions and you can ask your student directly for appropriate proof without communicating with us at the SASS.
3. As a matter of interest, SASS students were forwarded a Memo from the Vice Dean, Education, Faculty of Medicine on September 29, 2021 stating that full vaccination is required October 26, 2021 to provide services, and that "any learners or trainees who have not received their second dose before October 26, 2021, will not be permitted to enter any healthcare facility, which will impact their ability to complete the requirements of their respective programs." This was issued to provide direction as the current PHO order was being completed.
4. Our students are required to complete Daily Self-Assessment for symptoms of COVID-19 and follow the appropriate Public Health and site protocols if they do not pass this daily assessment. While at the School, they remain masked and follow the UBC Safety Plan for Learning Spaces. Additional details are available at https://srs.ubc.ca/covid-19/covid-19-safety-plans/.
5. Travel: The Ministry of Health and Public Health Officer deem student placements under the category of work, and as such, any travel by students on placement within B.C. during placements is under the category of Essential Travel, and not subject to travel restrictions. This extends to travel within work schedule between different regions.
6. Updated Public Health Orders are routinely shared with all of our students, and the Faculty of Medicine is in regular communication with local health authorities; including review and implementation of Public Health Orders. All student concerns are addressed by the School and the University with appropriate mechanisms and supports.
7. All relevant provincial COVID-19 Safety Plans are in effect for our SASS students, if they are placed out of province.
8. There is no change in the Mask Fit guideline in the BC Student Practice Education Guideline, and the university remains without supply of masks with which to conduct Mask Fit testing. If students require N95 masks for activities that are required for their core curriculum, this testing must be provided by the health authority. These guidelines can be found at https://spe.healthcarebc.ca/Pages/COVID-19.aspx#guidelines-&-placement-requirements.
8. All our students have been surveyed as to their interest in working with COVID confirmed or suspected clients. You will only be notified by the SASS if your student has declared this interest.
If you have any questions, please contact your student's listed Clinical Coordinator.
In closing, we thank you for your commitment to making student part of your work-life at this time. It is our sincerest hope that the months ahead will bring you and yours ease and continued good health.
Our Sincere Thanks:
Our students are excited about their clinical externships and look forward to them with eager anticipation.  It is through your guidance that students learn to put their knowledge into practice, to reflect on their successes and their setbacks, and to grow as young professionals.  We thank you for your commitment to the next generation of speech-language pathologists and audiologists.
Where have we sent our students for Clinical Externships?
Each and every year, at least 192 Major Externships and 48 Minors happen. All students are required to relocate outside the Greater Vancouver Area for at least 2 Externships. Take a look at all our Externship sites for 2015 to 2019. Is your site here?
News & Events
---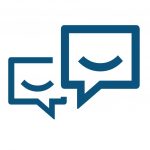 UBC student-led program connects people with communication challenges
We are pleased to share the Faculty of Medicine link for their article on our recent Camp CONNECT. https://www.med.ubc.ca/news/ubc-student-led-program-connects-people-with-communication-challenges/
Read More >
The September issue of News for SASS Clinical Educators is here
We are pleased to announce that the latest issue of our newsletter is out. Click on the link to read about what's new with UBC SASS. https://us17.campaign-archive.com/?u=733588e91862ac53bd11f2f22&id=edba8ed67d
Read More >
The June issue of News for SASS Clinical Educators is here
We are pleased to announce that the latest issue of our newsletter is out. Click on the link to read about what's new with UBC SASS. https://mailchi.mp/5b9c9c196ea6/news-for-sass-clinical-educators
Read More >